---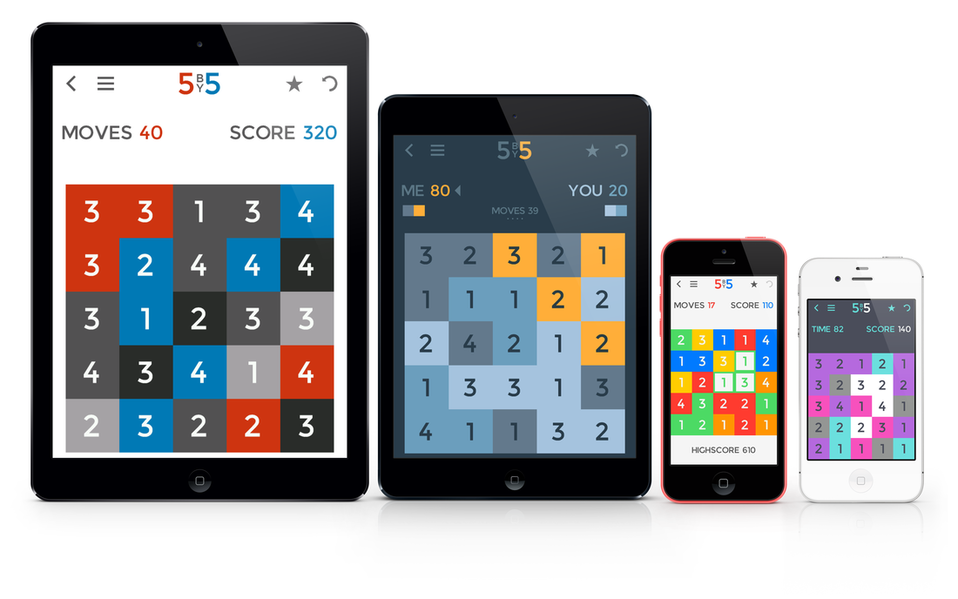 ---
5BY5 Brain Game is a fresh new puzzle strategy game that has never been seen before! The game features logic like sudoku mixed with bejeweled. Slide numbered tiles up and down, left and right. Match colors to gain points when groups of tiles add to 5.

Tease your brain with an interesting mix of game play elements in this free strategy puzzler. Challenge yourself in TIME and MOVE modes or compete with your friends on Facebook and Game Center.

GAME MODES
• MOVE - How high can score given 55 moves?
• TIME - Make as many moves as you want in 55+55 seconds.
• MULTI - Play friends through Game Center turn based multiplayer.
• PASS - Challenge a friend locally on the same device.

FEATURES
• Use bonuses and point doublers to score high.
• Compare scores on Game Center or Facebook.
• Unlock 55 themes to customize the look of the game.
• Enjoy beautiful classical symphonic sound effects.
• Use hints and undos to score higher.
• Easy to learn rules that reveal complex strategy.

---
| | | |
| --- | --- | --- |
| iPhone Screenshots | | iPad Screenshots |
| | | |
---
Copyright Isotope 244 LLC 2014